Age Akkerman
Contributions to Fondad publications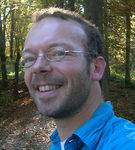 I joined FONDAD in 2001 and am trained as a development economist (Vrije Universiteit, Amsterdam).
What impressed me the most in developing countries was meeting farmers in Costa Rica during my research on organic coffee growing by small farmers. I experienced how rich people in the so-called developing countries can be in terms of happiness, wisdom and joy, and noticed how much the link between consumers and producers is missing.
The themes I specialised in are development economics, environmental economics, agricultural economics, transaction costs of microcredit, Latin American reform policies and the functioning of the international economic system and its institutions.
Before joining Fondad, I was at the Institute for Environmental Studies of the Vrije Universiteit, Amsterdam, working on North-South issues and climate change.
I study piano and play classical music and Argentine tango (my recording of the tango-waltz Desde el Alma). Currently, I am exploring Peter Feuchtwanger's piano technique. I dance Argentine tango and am quite addicted to the traditional close embrace danced on tango orchestras of more than half a century ago.