Adriana Bulnes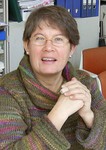 Adriana Bulnes (1956) is with FONDAD since 1987. She had to leave Chile in December 1973, and after living a few years in Germany she moved to the Netherlands, where she received an MB in history at Utrecht University. From 1985 to 1988 she was a volunteer at the Research Institute of Oppressed People (RIOP) in Amsterdam. She was involved in organising a symposium with Indigenous People at the 46° International Congress of Americanists in Amsterdam in 1988. From 1986-1987 she was with Vastenaktie, a Dutch catholic NGO which supports small-scale projects in developing countries.
Her hobbies are reading, traveling, meeting people from different cultures and background and the organisation of events, in the past as a volunteer and now as part of her work at FONDAD.
She is married to Jan Volkers and they have two adult daughters.