John Williamson
Contributions to Fondad publications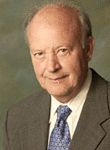 John Williamson (1937) is senior fellow at the Institute for International Economics in Washington D.C. since its founding in 1981. He has taught at the Universities of York (1963-68) and Warwick (1970-77) in England, the Pontifícia Universidade Católica do Rio de Janeiro (1978-81) in Brazil, as a visiting professor at MIT (1967 and 1980), LSE (1992), and Princeton (1996), and is an honorary professor at the University of Warwick (since 1985).
He was an economic consultant to the UK Treasury (1968-70), advisor to the International Monetary Fund (1972-74). From 1996-99 he was on leave from the Institute of International Economics to serve as chief economist for the South Asia Region of the World Bank. He was project director for the UN High-Level Panel on Financing for Development (the Zedillo Report) in 2001.
He is author, co-author, editor, or coeditor of numerous studies on international monetary and development issues. His most recent publication is Reference Rates and the International Monetary System (Institute for International Economics, 2007).