Oldrich Dĕdek
Contributions to Fondad publications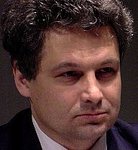 Oldřich Dědek (1953) is professor at the Institute of Economic Studies of the Charles University in Prague.
He was Vice Governor of the Czech National Bank (CNB) from 1992-1996. In 1992, he joined the State Bank of Czechoslovakia as Deputy Director of the Institute of Economics, and in 1996 he became an adviser to the CNB Governor.
He publishes articles on monetary and economic policy issues in the daily press and in professional journals. As an adviser to the Prime Minister of the Czech Republic in the first half of 1998 he headed the team of authors who prepared the document Economic Strategy of Joining the European Union: Starting Points and Directions.