Alicia Bárcena
Contributions to Fondad publications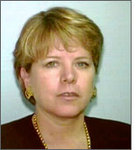 Alicia Bárcena Ibarra is Under-Secretary-General for Management since January 2007. Ms. Bárcena had been serving as Chef de Cabinet to former Secretary-General Kofi Annan. Prior to that, she also served as Deputy Chef de Cabinet and later as Acting Chef de Cabinet to the Secretary-General.
Previously she was Deputy Executive Secretary of the Economic Commission for Latin America and the Caribbean (ECLAC) and she was the Chief of the Environment and Human Settlements Division of ECLAC.
Her career has focused on public policies for sustainable development, with particular reference on environment, ecology and social issues such as citizenship and participation of civil society. She previously served as Co-ordinator of the Latin American and Caribbean Sustainable Development Program of UNDP and as Co-ordinator of the United Nations Environment Program (UNEP), in charge of a global program on "Environmental Citizenship".
She was the Founding Director of the Earth Council in Costa Rica. The Earth Council is a non-governmental organization in charge of the follow-up of the agreements reached in the United Nations Conference on Environment and Development held in Rio de Janeiro, Brazil in 1992.
In the Government of Mexico she was Director-General of the National Institute of Fisheries and Vice-minister of Ecology during the Presidency of Miguel De la Madrid. Also, she acted as Consultant to the Inter-American Development Bank.
In the academic arena, she was President of Cultura Ecológica and previously Co-ordinator of Southeast Regional Center of the Instituto Nacional de Investigaciones sobre Recursos Bióticos-Center in the State of Yucatan. Mrs. Bárcena has taught and researched on botany, ethnobotany and ecology.
She has published a number of articles on sustainable development, public policies, environment and global citizenship and public participation. Mrs. Bárcena has a B. Sc. in Biology and completed course work for the Master in Ecology at the Universidad Nacional Autónoma de Mexico. She has a Master Degree on Public Administration from Harvard University.