Masaru Yoshitomi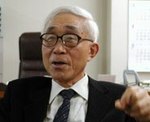 Masaru Yoshitomi (1932) is special adviser at the Research Institute of Economy, Trade and Industry (RIETI) in Tokyo, where he was president and chief research officer until April 2007.
From 1999-2003 he was dean of the Asian Development Bank Institute (ADBI) in Tokyo. He was visiting executive professor at the Wharton School of the University of Pennsylvania from 1993 to 1998.
At the Economic Planning Agency of the Government of Japan (EPA), he served as director-general of the Coordination Bureau in 1991-92 and the Economic Research Institute in 1987-91. At the OECD he was director of the General Economics Branch from 1984 to 1987.
He also served as an economist at the IMF in Washington (1970-74). One of his major publications is Reality of the Asian Economy: Miracle, Crisis and Institutional Evolution, 2003.