Amar Bhattacharya
Contributions to Fondad publications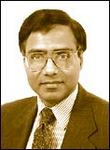 Amar Bhattacharya (1952), an Indian national, is director for the G-24 since 2007. Before, he was senior advisor, Poverty Reduction and Economic Management Network at the World Bank. In this capacity, he was responsible for coordinating the Bank's work on international financial architecture.
Since joining the World Bank in 1979, he has had a long-standing involvement in East Asia, including as division chief for country operations in Indonesia, Papua New Guinea and the South Pacific, and chief officer for creditworthiness. He was team leader of a special World Bank study that examined the policy implications of private capital flows and financial integration for developing countries, and was part of the Bank's senior team focusing on the East Asia crisis.
Prior to joining the World Bank, he worked as an international economist with the First National Bank of Chicago.