Mohamed El-Erian
Contributions to Fondad publications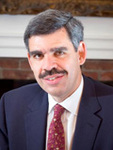 Mohamed El-Erian is president and CEO of Harvard Management Company, the wholly-owned subsidiary of Harvard University which is responsible for the management of the University's endowment and related accounts. He is a member of the faculty of Harvard Business School and deputy treasurer of the University.
Before joining Harvard in February 2006, Dr. El-Erian was a managing director and a senior member of PIMCO's portfolio management and investment strategy group. In addition to serving on the firm's seven-member investment committee and the three-member partner compensation committee, he led the emerging markets and diversified income portfolio management teams and had oversight responsibilities for the mortgage, investment grade, high yield, convertibles, and money market desks. He joined PIMCO in May 1999, having been associated previously with Salomon Smith Barney in London where he was managing director of the emerging markets economic research team. Prior to joining Salomon Smith Barney, he spent fifteen years with the IMF.
Mohamed El-Erian has written widely on economic and financial issues and has extensive board experience. Boards on which he has served include the Emerging Markets Traders Association (EMTA) and the Emerging Markets Creditors Association (EMCA). He is currently a member of the IMF's Capital Markets Consultative Group and sits on the board of the International Center for Research on Women (ICRW). He earned his undergraduate degree from Cambridge University and holds master's and doctorate degrees from Oxford University.