Ricardo Ffrench-Davis
Contributions to Fondad publications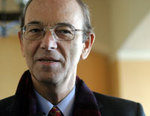 Ricardo Ffrench-Davis (1936) is principal regional advisor on economic policy at ECLAC. He is also professor at the Instituto de Estudios Internacionales and the department of economics at the University of Chile. He co-directs the Macroeconomic Task Force of the Initiative for Policy Dialogue (University of Columbia).
He was formerly director of research of the Central Bank of Chile, vice president at the Center for Economic Research on Latin America (CIEPLAN) in Santiago, and deputy manager of the Central Bank of Chile. He has been a visiting professor at both Oxford and Boston University and at institutes in France, Italy, Spain and Sweden. He has coordinated important international research groups, in particular on international finance and macroeconomics.
He has published widely on international economics, development strategies, foreign financing and Latin American economies.
His most recent book is Economic Growth With Equity: Challenges for Latin America (Palgrave Macmillan, 2007).