Fan Gang
Contributions to Fondad publications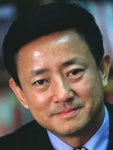 FAN Gang (1953) is a key economic advisor to the top leadership of China on issues of reform and development strategies.

Professor FAN is one of China's leading economists. He is the director of the National Economic Research Institute, China Reform Foundation in Beijing, China's first independent economics think tank. He is as well professor of economics at Beijing University and The Graduate School, Chinese Academy of Social Sciences.

Currently, Professor FAN Gang is the only academic expert member of the Monetary Policy Committee of People's Bank of China (the Central Bank), the highest macroeconomic policy advisory body in the country, directly reporting to the State Council. For the past seven years, he has also served as advisor to the State Foreign Exchange Administration of China, and the Monetary Administration of the Government of Hong Kong. He has served as an international advisor to the Center for International Development at Harvard University since 1993 and a Fellow of the World Economic Forum since 1994. In 1995, he was elected as one of the "Global Leaders for Tomorrow" at the World Economic Forum in Davos.

Prof. FAN Gang was listed as one of "World's Top 100 Public Intellectuals" jointly by Foreign Policy and Prospect, in 2005.