Esteban Jadresic
Contributions to Fondad publications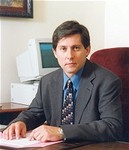 Esteban Jadresic (1960) is director of the International Division at the Central Bank of Chile. He is the principal advisor and executive officer reporting to the Board on the assessment of the international economic outlook, the management of external assets and liabilities, foreign exchange regulations, and relations with foreign and international counterparts.
Previously he was a senior economist with the Research Department at the IMF, professor of macroeconomics at the University of Chile, and researcher with the Corporation for Latin American Economic Research.
At the Central Bank, he also served as deputy chief economist and manager of foreign trade policy.
He has acted as a consultant to international and domestic institutions and published articles in specialised journals and books.