Louis Kasekende
Contributions to Fondad publications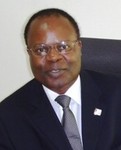 Louis Kasekende (1958) is Chief Economist at the African Development Bank since 1 May 2006. In this position, his main function is to oversee knowledge generation and dissemination to the benefit of Regional Member Countries and to enhance the visibility of the Bank in international development debates.
He has earlier served as the Deputy Governor at the Bank of Uganda, a position assumed in May 1999. In September 2002, he was seconded to the World Bank to take the position of Executive Director for the Africa Group 1 constituency including 22 countries mostly from anglophone sub-Saharan Africa. From 1992 to 1999 he served as director of research at the Bank of Uganda.
In his career spanning over twenty years, he has taught at Makerere University for a period of six years and has published in journals and chapters in books on a wide range of economic subjects.