Yung Chul Park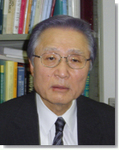 Yung Chul Park (1939) is research professor and director of the Center for International Commerce and Finance at the Graduate School of International Studies, Seoul National University. He currently serves as co-chairman of the Public Fund Oversight Committee of the Korean government.
He was a member of the National Economic Advisory Council (2003-04), ambassador for international economy and trade, Ministry of Foreign Affairs and Trade (2001-02), and chairman of the board, the Korea Exchange Bank (1999-01).
He previously served as the chief economic adviser to the President of Korea (1987-88), as president of the Korea Development Institute (1986-87), as president of the Korea Institute of Finance (1992-98), and as a member of the Central Bank of Korea's Monetary Board (1984-86). He also worked for the IMF (1968-74).
He has written and edited several books, including Economic Liberalization and Integration in East Asia (2006), and A New Financial Structure for East Asia (2006).